Marseille, France – is a city with a rich and complex history that spans over two thousand years. Marseille is a city that has been shaped by a fascinating mix of cultures and historical events, and there are countless ways for travelers to experience this diversity firsthand. From the ancient Greek and Roman ruins that dot the city's landscape to the vibrant jazz scene that has flourished here for decades, there is something for everyone in Marseille. And if you're a food and wine lover, Marseille's cuisine and vineyards are not to be missed, with fresh seafood, savory crepes, and world-renowned wines that reflect the region's unique terroir. But perhaps most fascinating of all is Marseille's Black heritage, which can be seen in everything from the city's music and dance to its street art and museums. By exploring the sites where legendary Black artists such as Josephine Baker and Claude McKay made their mark, travelers can get a deeper understanding of African culture's role in Marseille's vibrant cultural tapestry.  
Ancient History of Marseille  
The Greeks founded Marseille in 600 BCE, establishing a trading post in the area. They named the settlement Massilia and quickly became a prosperous port city known for its flourishing trade and commerce. In addition, the Greeks brought their language, art, philosophy, and religion, which impacted the city's culture.  
 In addition to its Greek heritage, Marseille was a critical Roman Empire center. The city was renamed Massilia Augusta by the Romans. Many of the city's impressive Roman ruins are still seen today, including the famous Roman theater and the aqueducts that supplied the town with water.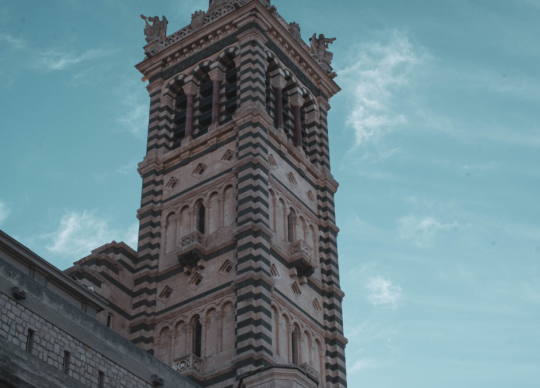 African History in Marseille  
 Marseille's history is a complex tapestry of cultural influences, but one thread that cannot be ignored is the city's connections to Africa. Unfortunately, Marseille was also involved in the Trans-Atlantic Slave Trade, playing a significant role in the trafficking of enslaved Africans. The city's merchants and traders were deeply involved in the slave trade, and Marseille profited greatly from the inhumane practice. However, it's important to acknowledge this dark part of Marseille's history to understand better how it has shaped the city's cultural diversity today.  
Despite its involvement in the slave trade, Marseille has also been shaped by the contributions of people of African descent. The city is home to a large population of people of North African and sub-Saharan African descent, and their cultural contributions have enriched the city's cultural tapestry. African heritage can be seen in everything from the city's cuisine to music and dance.  
Black Heritage in Marseille  
Marseille's Black heritage is a vibrant part of the city's cultural tapestry, with a legacy that includes some of the most iconic jazz performers, writers, and artists in history. Follow in the footsteps of legends like Josephine Baker, Claude McKay, and Alexander Dumas as you explore Marseille, the oldest city in France.   
Start by visiting La Joliette, the site of France's historic Port of Entry, and witness the beauty of Joliette Plaza, which is featured in McKay's 1929 novel Banjo. Then, tour other iconic locations such as the Chateau d'lf, the touchstone of Dumas's famous tale, Count of Monte Cristo, and Le Panier, is the oldest residential neighborhood in Marseille. Finally, don't forget to visit the breathtaking La Vieille Major Cathedral, where you can soak up the history and culture of Marseille's Black heritage.
Marseille and the Harlem Renaissance  
Marseille was also a hub for the Harlem Renaissance during WW II, with many writers, artists, and musicians finding refuge in the city. Explore this unique chapter in the city's history by visiting some of the sites where these creative minds lived and worked and learn about their impact on Marseille's cultural landscape.  
Whether you're interested in exploring Marseille's ancient history or learning about its Black heritage, the city has something for everyone. Marseille's museums and cultural centers, such as the Museum of African, Oceanic, and Amerindian Arts and Cultures, are great places to learn more about the city's diverse history and cultural contributions.   
The Rise of Jazz in Marseille
One of the most enduring legacies of African American culture in Marseille is the city's vibrant jazz scene. After World War II, Marseille emerged as an essential center for jazz music, with many American jazz musicians visiting the city to perform and collaborate with local musicians. Today, Marseille is home to many jazz festivals and cultural events, including the Marseille Jazz des Cinq Continents festival, which celebrates jazz music worldwide.
And if you're interested in tracing your African American heritage, Marseille is a great destination to visit, with many resources and events dedicated to African American culture and history.
Cultural Diversity in Marseille
Marseille is a city with a rich and diverse population, and this diversity is reflected in the many different neighborhoods that make up the city. So whether you're looking for a bustling shopping district or a quiet residential area, Marseille has a setting to suit your needs.
The Vieux-Port neighborhood is one of the most popular areas of the city. It is home to many of Marseille's most famous landmarks and attractions, including the historic harbor, the Old Town, and the Notre Dame de la Garde Basilica. The Cours Julien neighborhood is another popular area known for its vibrant street art, music venues, and restaurants.
Food in Marseille
Every trip to Marseille is complete with sampling some of the city's famous cuisine. Marseille is known for its fresh seafood, with many restaurants offering dishes like bouillabaisse, a traditional fish stew. The city also has a vibrant street food scene, with vendors selling everything from falafel and shawarma to savory crepes and sandwiches. Marseille's diverse neighborhoods, such as Vieux-Port and Cours Julien, are also great places to explore, with plenty of restaurants, cafes, and shops to discover.
Wine in Marseille
Marseille is also an excellent destination for wine lovers, with vineyards producing some of the best wines in the world. The region around Marseille, Provence, is particularly famous for its rosé wines. These light and refreshing wines are perfect for sipping on a hot summer day and are popular among locals and visitors alike.
One of the best ways to experience Marseille's wine culture is to tour the city's vineyards and wineries. The Cassis wine route, located just outside Marseille, is a popular destination for wine lovers. This scenic route takes visitors through the vineyards and wineries of Cassis, where they can sample some of the region's best wines and learn about the winemaking process.
In addition to the Cassis wine route, Marseille is home to several wine bars and shops where visitors can sample and purchase wine from the region. One popular spot is La Cave de Baille, a wine shop and tasting room specializing in wines from Provence and other areas in France.

Final Thoughts
Marseille is a captivating destination with a multifaceted history, varied neighborhoods, and a vibrant culture that celebrates its African heritage, jazz music, and wine. So whether you're a foodie, a history buff, or a music lover, Marseille offers something for every kind of traveler. Discover the ancient Greek and Roman ruins that shaped the city's early history, savor the flavors of Marseille's renowned cuisine and wine, and immerse yourself in the city's rich cultural tapestry. It's time for a trip don't you think? So come and explore this dynamic and diverse city and experience the magic of Marseille firsthand!
Are you ready for a trip to Marseilles? Schedule a Courtesy Dream Getaway Consultation.