We flew in on a Thursday afternoon and flew home Sunday morning. The weather was a little rainy. Despite the usually balmy weather, it felt chilly because of the close proximity to the Mississippi River. All that moisture makes it feel colder. By Saturday, the rain cleared up and we had terrific weather in the mid to upper 60's.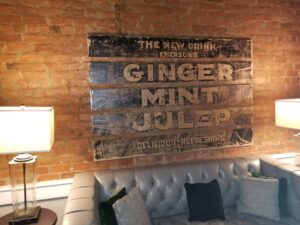 This Boutique Style Hotel Has Lots of Charm
We stayed at the Holiday Inn French Quarter – Chateau LeMoyne located on the corner of Dauphine and Bienville Street in the heart of the French Quarter. This hotel is a boutique-style hotel located one block from Bourbon Street and two blocks from Canal Street. It is surprisingly quiet. There's a bar on the corner and there is plenty of meeting rooms and space for events inside.  Here are a few pics of inside the hotel. For more: images visit the Photo Gallery.
Check out the Video Room tour.
I hope you enjoyed the pics.. For help booking your trip please get schedule an appointment for a courtesy Dream Vacation Design Session.
-Priscilla Holmes – CEO & Travel Advisor, Cilla Travel